iLotusLand software - Your companion for a green Earth
iLotusLand software supports the synthesis and report of measured parameters from the monitoring system, while controlling and analyzing real-time IoT environmental monitoring data. The software relies on data to make intelligent decisions in monitoring environmental waste processing. The measured parameters will always be continuously recorded and in real-time.
The software depends on data to make smart decisions in monitoring environmental waste disposal. Measured indicators will always be recorded continuously and in real-time. Users can connect and receive data from different monitoring stations through just one software, iLotusLand.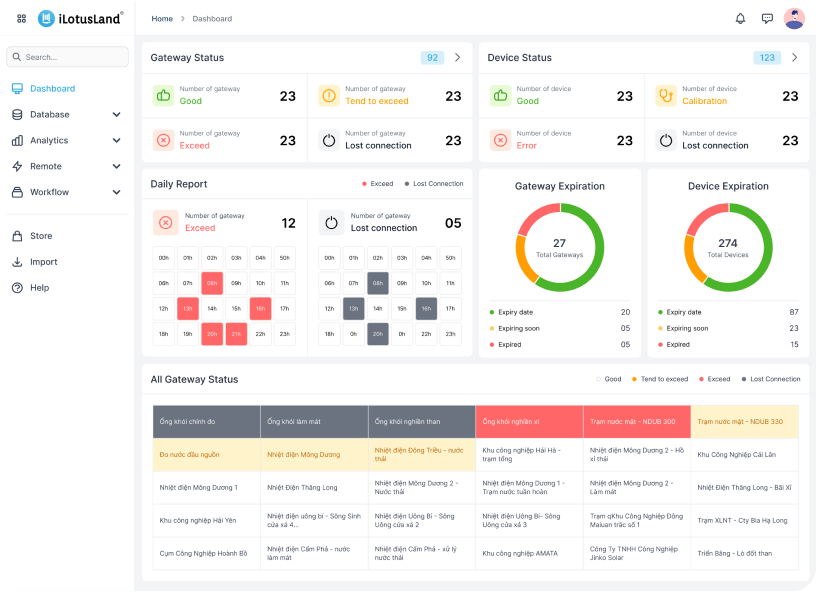 Moreover, through the software, users can control the monitoring system: control sampling, gather real-time information from camera signals, and interact with the locations of the stations on the map. With the application available on the website and mobile phones, iLotusLand aims to help relevant authorities or factories easily and promptly monitor the quality of emissions.
Deployment Models
Model for On-Cloud Customers

This model is for customers who rent infrastructure and services (hardware and software) for monitoring, tracking, and reporting automatic monitoring data according to the regulations of the Ministry of Natural Resources and Environment. Users can access iLotusLand (On-Cloud) through a Public Demo account (registration required), an Organizational account, or through the Large Scale License Program (ELA).
Model for On-Premise Customers:

This model is for customers who use the software for monitoring, tracking, and reporting automatic monitoring data according to the regulations of the Ministry of Natural Resources and Environment. However, the hardware infrastructure is provided by the customer. When customers request deployment on their designated infrastructure, iLotusLand software (On-Premise) can be deployed according to the project's requirements or as a component of the Large Scale License Program (ELA).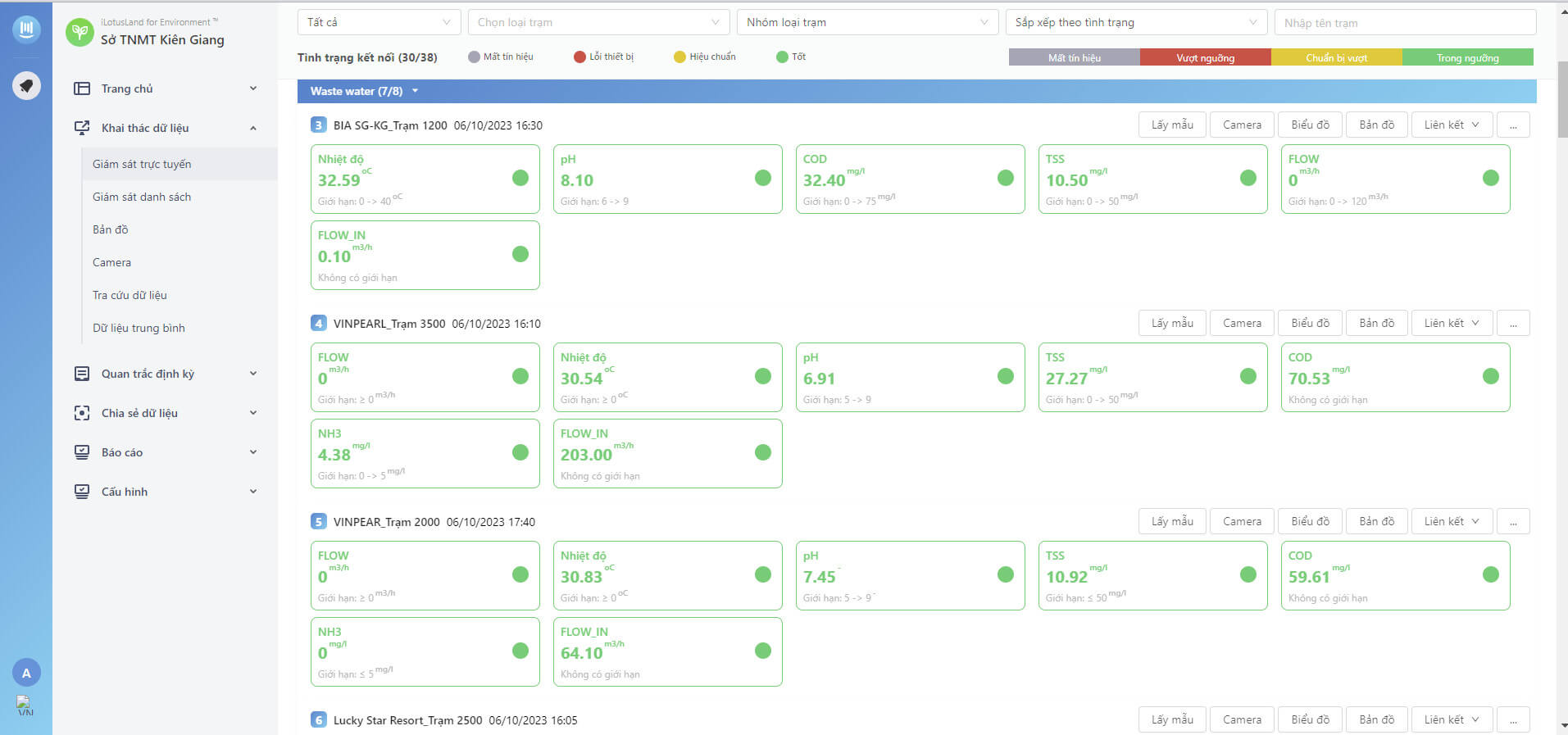 Why Choose iLotusLand for the Environment? 
With highly skilled technical expert team, iLotusLand commits to advising, designing, and installing a comprehensive automatic wastewater monitoring software system for customers, ensuring stable operation and providing free support throughout the operation process in case of any errors. We provide consulting, development, and installation solutions for monitoring stations that comply with standards, offering remarkable benefits:
The software fully meets the criteria for environmental monitoring management set by the government.  

Constant and accurate data updates based on the actual situation, allowing managers to closely monitor and provide timely solutions.

24/24 notification system sends alerts to customers when data encounters issues, especially for abnormal or exceeding threshold data.

The platform is integrated with multiple applications, capable of integrating various systems, optimizing the management of multiple monitoring systems.

Key result search function allows users to retrieve detailed data by hour, day, week, or month.

User-friendly interface displaying monitoring data in both table and chart formats.

Customized report extraction as each customer's request, personalized all extracted reports to meet specific requirements and suit different fields.

Through the software, users can remotely control the monitoring system on/off, including controlling the operation of pumps and samplers.

Cloud-based solution facilitates easy data storage from the monitoring system by simple data connection to the monitoring system, enabling immediate use of the software.

High security with a two-layer password system.

Data category management feature, configuring system parameters. When managing monitoring points' information, monitoring measurements, configuring alert thresholds, etc.

Administration feature, allowing role-based management, monitoring, and supervision within the system.
Contact us to get more information about the product!
---
More information: 
Email: info@ilotusland.com.
Hotline: +84 909 403 778
Facebook: iLotusLand – Leading in Industrial IoT Solutions
Linked in: iLotusLand – The 1st IoT Platform in Vietnam