As the largest and most developed city in the country, Ho Chi Minh City is facing an air pollution crisis with air quality indexes in many areas exceeding the red alert level, especially towards the end of the year. For several days now, from early morning until noon, Ho Chi Minh citizens can easily notice that the air seems to be shrouded in a thick layer of smog.
Ho Chi Minh City Is Engulfed In Smog, Fine Dust Concentration Exceeds The Allowed Threshold
On the morning of October 11th, the city's residents woke up to relatively cool weather, with temperatures ranging from 23-26 degrees Celsius, overcast skies, weak sunlight, and a thick layer of fog covering many areas.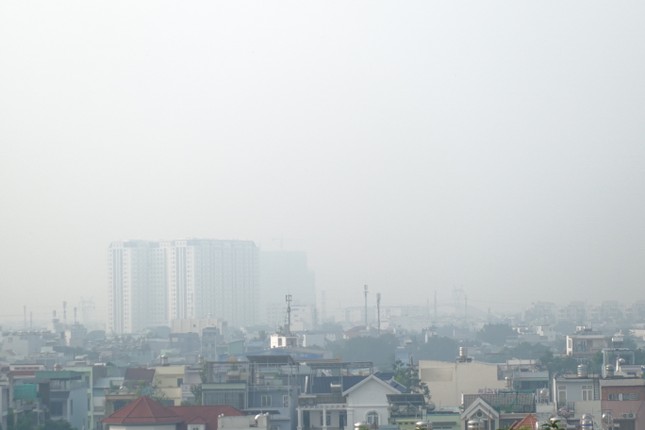 In recent times, Ho Chi Minh City and relevant authorities have implemented various solutions to provide early warnings and reduce air pollution within the city, but they have not achieved the desired results. According to representatives from the Southern Region Meteorological Station, the recent rainy weather in Ho Chi Minh City, high humidity, weak winds that trap moisture in the lower atmosphere, and the presence of suspended dust particles have all combined to create this foggy condition.
High Fine Dust Levels Cause Air Pollution
According to the Air Visual air quality monitoring app (owned by IQAir, an organization with a large database on air quality, headquartered in Switzerland), many areas in Ho Chi Minh City have recorded red alert levels (hazardous to health) for air quality. These measurements were taken in districts such as Thu Duc, Binh Tan, Go Vap, and the Binh Chanh and Hoc Mon districts.
According to the Air Visual app, the concentration of fine dust PM2.5 in Ho Chi Minh City on the morning of October 11th reached approximately 74.6 µg/m³ (permissible levels are around 5 µg/m³).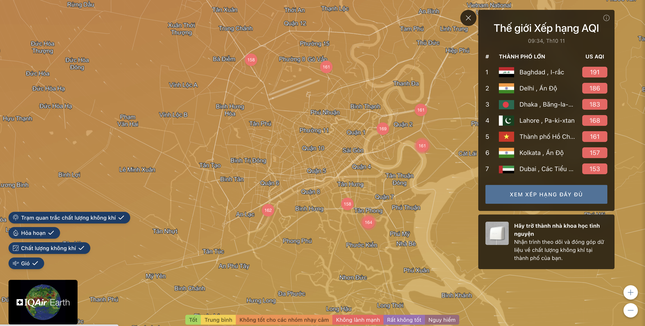 "The PM2.5 concentration in Ho Chi Minh City is currently 14.9 times higher than the WHO annual air quality guideline," the app states. According to Air Visual, the air quality index in Ho Chi Minh City this morning reached 161, ranking 5th in terms of pollution among 109 major cities worldwide.
Fine Dust Concentration Is At High Threshold
High levels of fine dust have been observed over the past few days, especially from early morning until noon. This phenomenon is common in the Southern region during the transition from the rainy season to the dry season, often referred to as "foggy pollution" by the Ho Chi Minh City Department of Natural Resources and Environment. This term describes a type of atmospheric pollution occurring in the atmospheric boundary layer, created when sunlight reacts with pollutants, resulting in harmful compounds that reduce visibility.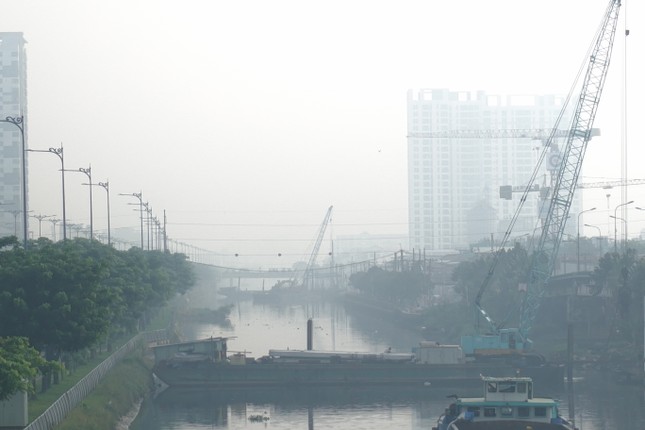 PM2.5 fine dust particles are particles with a diameter less than 2.5 micrometers, roughly 1/30th the width of a human hair. When inhaled, they can penetrate deep into the lungs, bronchi, blood vessels, and potentially lead to lung, blood, and vascular diseases. According to the World Health Organization (WHO), PM2.5 particles are the leading cause of death related to environmental pollution. Additionally, air pollution has significant environmental consequences, including greenhouse gas effects, ozone depletion, climate change, and the occurrence of acid rain.
Current Status Of Air Pollution In Ho Chi Minh City
In reality, Ho Chi Minh City has the second-highest air pollution levels in Southeast Asia after Jakarta, Indonesia, and ranks 12th among the most polluted cities in the world. The main causes of air pollution in the city are dust and emissions from transportation, construction activities, and industrial operations with high emissions that have not been effectively controlled. The implementation of legal regulations and air pollution control programs has been inconsistent and ineffective.
As a result, Ho Chi Minh City urgently needs solutions to mitigate and reduce air pollution as soon as possible.
Improving Air Quality 
To reduce air pollution, the People's Committee of Ho Chi Minh City has instructed the Department of Natural Resources and Environment to monitor air quality regularly and continuously and to monitor the automatic emission quality data of connected units. This allows for timely warnings and recommendations to handle cases of excessive emissions that exceed the specified standards.
The People's Committee of Ho Chi Minh City has assigned the Department of Transport to concentrate resources on implementing transportation projects according to the plan to help reduce traffic congestion and air pollution resulting from transportation activities. The city aims to have 15% of public transportation passengers by 2025 and 25% by 2030.
In addition to researching air quality, focusing on the current state of air quality, its effects, and management, the project aims to find solutions to minimize air pollution through technological innovation, policy recommendations, and capacity-building with estimated investment costs for controlling air pollution sources in Ho Chi Minh City.
iLotusLand - An Excellent Environmental Protection Solution 
With the mission of protecting our environment in the best way possible, iLotusLand, with its team of highly qualified technical experts, is committed to providing comprehensive, stable, and free-of-charge support during operation for an automated air quality monitoring software system. We will provide consulting solutions, development, and installation of monitoring stations that comply with standards, delivering surprisingly beneficial results. Contact us for more information about our products as quickly as possible! 
Contact us to get more information about the product!
---
More information: 
Email: info@ilotusland.com.
Hotline: +84 909 403 778
Facebook: iLotusLand – Leading in Industrial IoT Solutions
Linked in: iLotusLand – The 1st IoT Platform in Vietnam