Creating periodic reports helps businesses and state agencies evaluate monitoring data based on the value of environmental quality parameters of soil, water, air, etc., and assess the impact of pollution sources. or as a basis for proposing environmental protection measures and appropriate treatment plans.
Given the specific nature of the environmental sector, the reports are periodical and require high accuracy. Therefore, making reports by hand is extremely difficult and time-consuming. iLotusLand is a powerful tool to support all your reporting needs.

Characteristics of the reporting module
Smart filter: allows for data queries with certain filters applied.
Retrieved and displayed in many forms of reports: statistical tables, column charts, line charts.
View and export reports quickly and easily.
Multi-language interface.
Automatic data processing cleanup.
The report forms meet circular No. 43/2015/TT-BTNMT.
A number of report templates already available: data receiving rate report, over-threshold data report, Average measurement data report, AQI/WQI report etc.
Rapid data analysis, anytime, anywhere
iLotusLand supports optimal processing of huge data sources on the cloud. The tool integrates data from multiple sources into the data warehouse. Then quickly analyzes it according to the user's query and export the specific report. This is done by iLotusLand anytime, anywhere in real-time and gives users accurate and immediate results.
Reporting as an interactive & easily shared overview
The dashboard makes it easier and more intuitive to analyze data, allowing users to look at data as tables, and numbers that visually represent the data.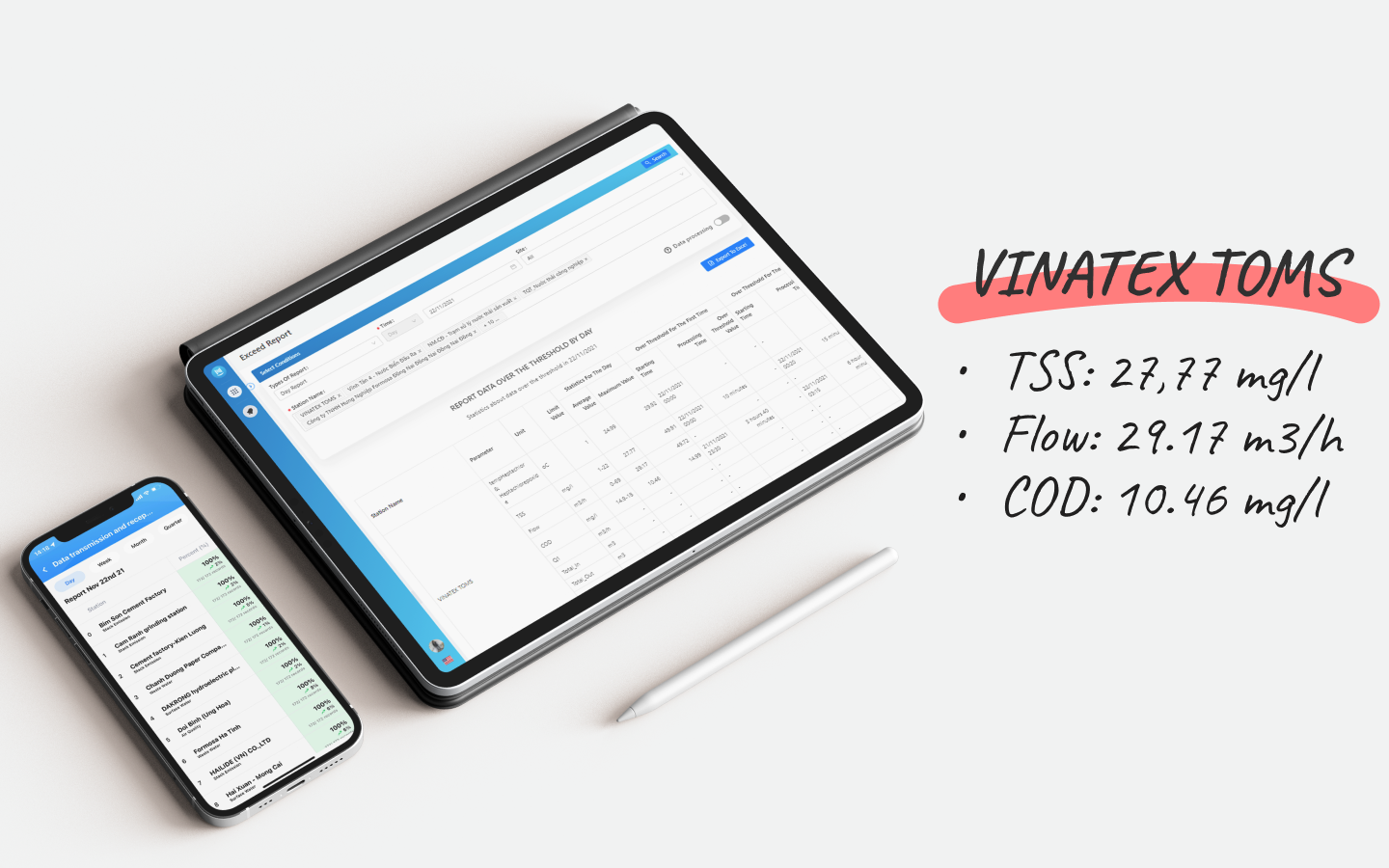 Improve performance of periodic report export
iLotusLand is designed to be user-friendly, easy to use with both the web and mobile versions. All of this does not require a lot of technology skills, so employees in departments can also quickly access the system to monitor and export reports depending on the needs of each business.
Security and role decentralization
System managers can fully set up reports corresponding to each user account in the organization, which also supports optimal security.
Support in decision making
Various reports help users make decisions about correcting and handling specific situations and to rely on the proposed environmental protection measures that are more suitable for the actual situation.
Constantly upgrading and updating of versions
With the upcoming version in the fourth quarter of 2021, iLotusLand will help customers synthesize periodic reports quickly, with many report formats, diverse languages, diverse display ways with accurate data. Verified is definitely a powerful tool to support our customers. Besides, constantly optimize the interface and software stability.
Working closely together with businesses and organizations, iLotusLand has a lot of experience in implementing software systems that promise to provide environmental monitoring data management solutions, that are fully integrated, with useful features and enhanced efficiency.
Contact us now to experience more useful features, now and in the future !
---
More information:  
Email: info@ilotusland.com.
Hotline: +84 909 403 778
Facebook: iLotusLand – Leading in Industrial IoT Solutions
Linked in: iLotusLand – The 1st IoT Platform in Vietnam