VSIP Binh Duong is an industrial park symbolizing the cooperation between Vietnam and Singapore. From its inception, the prime ministers of both countries had high expectations for this project. Up to now, VSIP has been growing and creating jobs for thousands of workers. Environmental protection, especially wastewater monitoring of businesses in industrial parks (IPs), has been quite well implemented, particularly in VSIP IPs. The proportion of enterprises in IPs listed in the green list - performing well in environmental protection in Binh Duong province - always exceeds 80% of the total number of enterprises.
VSIP Binh Duong Industrial Zone
VSIP is one of the leading industrial park developers in Vietnam, which started its operation in January 1996. Currently, VSIP has begun expanding projects in the North and South, creating employment for hundreds of thousands of engineers, workers, both domestic and foreign, in Vietnam. VSIP is shifting towards developing industrial parks, urban areas, and service complexes to create a sustainable working, living, learning, and entertaining environment. The IPs developed by VSIP are designed and invested in the direction of a modern and exemplary industrial park - a green, clean, and beautiful industrial zone.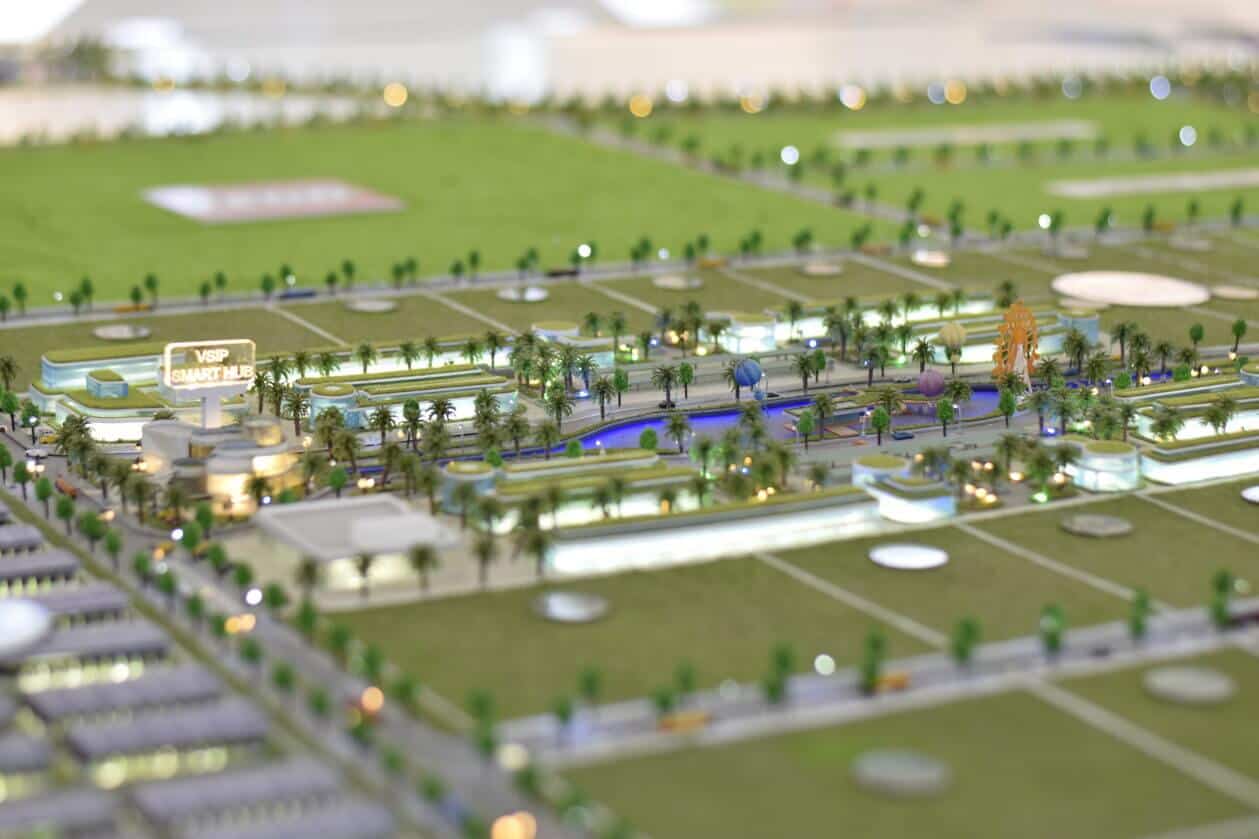 In a short period, Binh Duong's economy has continuously advanced at a very rapid growth rate, becoming one of the most attractive investment markets nationwide, as well as Binh Duong real estate becoming increasingly heated. This success is significantly contributed by industrial parks, especially VSIP, which is a lever for Binh Duong's economy.
VSIP 1 Binh Duong Industrial Zone
VSIP 1 Industrial Park is strategically located in Thuan An Town (formerly Thuan An District), Binh Duong Province, about 20 km from the center of Ho Chi Minh City. It has a favorable location, making it easy to use the infrastructure, facilities, and support services in the number one economic center of Vietnam, Ho Chi Minh City. VSIP 1 Industrial Park also has a very close proximity to Tan Son Nhat Airport and Saigon Port, contributing to the convenience of transportation for import and export activities of businesses and factories within the Industrial Zone.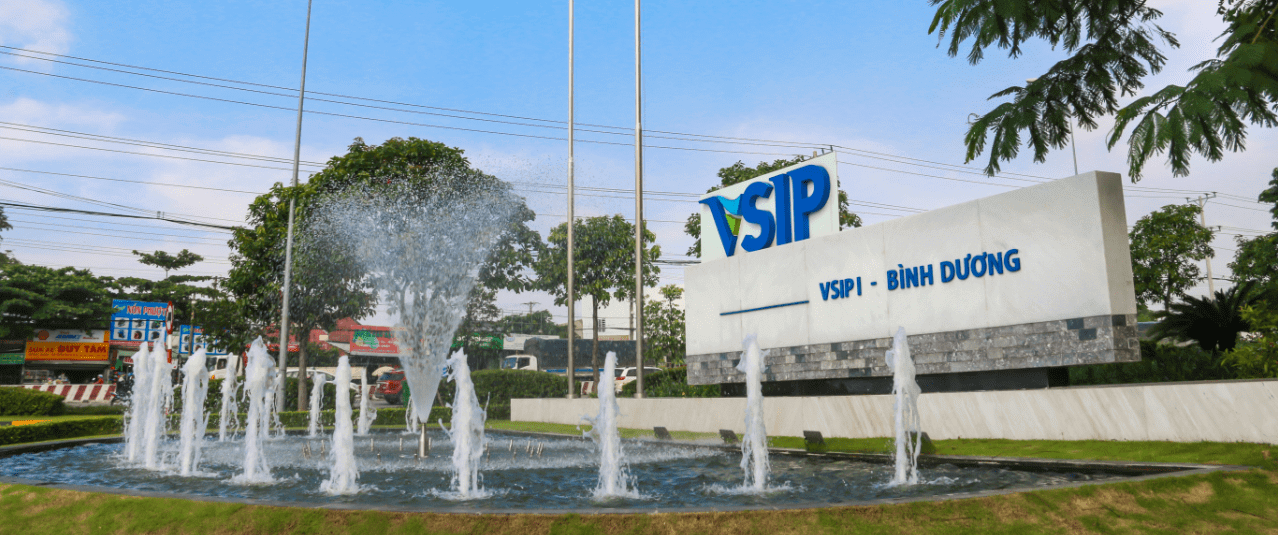 Moreover, it also possesses a highly professional infrastructure management team with modern and complete infrastructure, including full systems from electricity, water, power plants, waste treatment to communication.
The clean water supply system in VSIP 1 Industrial Park can reach a maximum flow of up to 40,000 m3/day, ensuring sufficient water for production activities according to the standards of the industrial park. Along with that, the wastewater treatment system is also designed and completed with a maximum processing capacity of up to 30,000 m3/day, and the rainwater drainage system is arranged longitudinally, parallel to the roads.
VSIP 2 Binh Duong Industrial Zone
VSIP 2 Industrial Zone was established by the Vietnam-Singapore Industrial Park Joint Venture Company in 2006, marking the cooperative event between Vietnam and Singapore. Located in the Integrated Industrial, Service, and Urban Area of Binh Duong Province. The existing location of VSIP 2 is in Hoa Loi Ward (Ben Cat Town), Hoa Phu Ward (Thu Dau Mot City), Vinh Tan, Phu Chanh Ward (Tan Uyen Town), and Tan Binh Commune (Bac Tan Uyen District), Binh Duong Province. This is an extremely important and convenient location for current and long-term development and growth.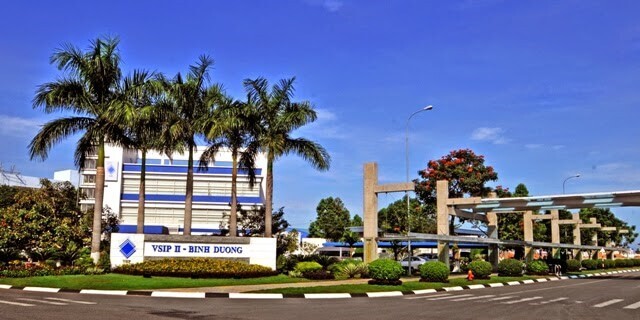 With this location, VSIP 2 is located right in the Integrated Industrial, Service, and Urban Area of Binh Duong, only about 15 km north of VSIP 1 Industrial Park. With the infrastructure and utilities design, VISIP 2 has a very developed infrastructure, providing high reliability. This industrial park brings investors an international quality business environment with modern infrastructure systems and professional customer support services, including Industrial, Commercial - Service, Residential areas, etc.
VSIP 2 Industrial Zone Expansion
Following VSIP 2 Industrial Zone, the local government has implemented the expansion of VSIP 2 Industrial Park in a very favorable location: located in Vinh Tan and Tan Binh communes of Tan Uyen district, a part of Hoa Loi commune in Ben Cat district; adjacent to the north-east of the Integrated Industrial, Service, and Urban Area of Binh Duong, extending the total area of VSIP 2 Industrial Park to about 1,338 hectares. The transportation location of VSIP 2 Industrial Park is very favorable: located next to DT742 road connecting with National Highway 13 and My Phuoc - Tan Van expressway; the 4th ring road of Ho Chi Minh City and the trans-Asia railway will pass through the Industrial Park.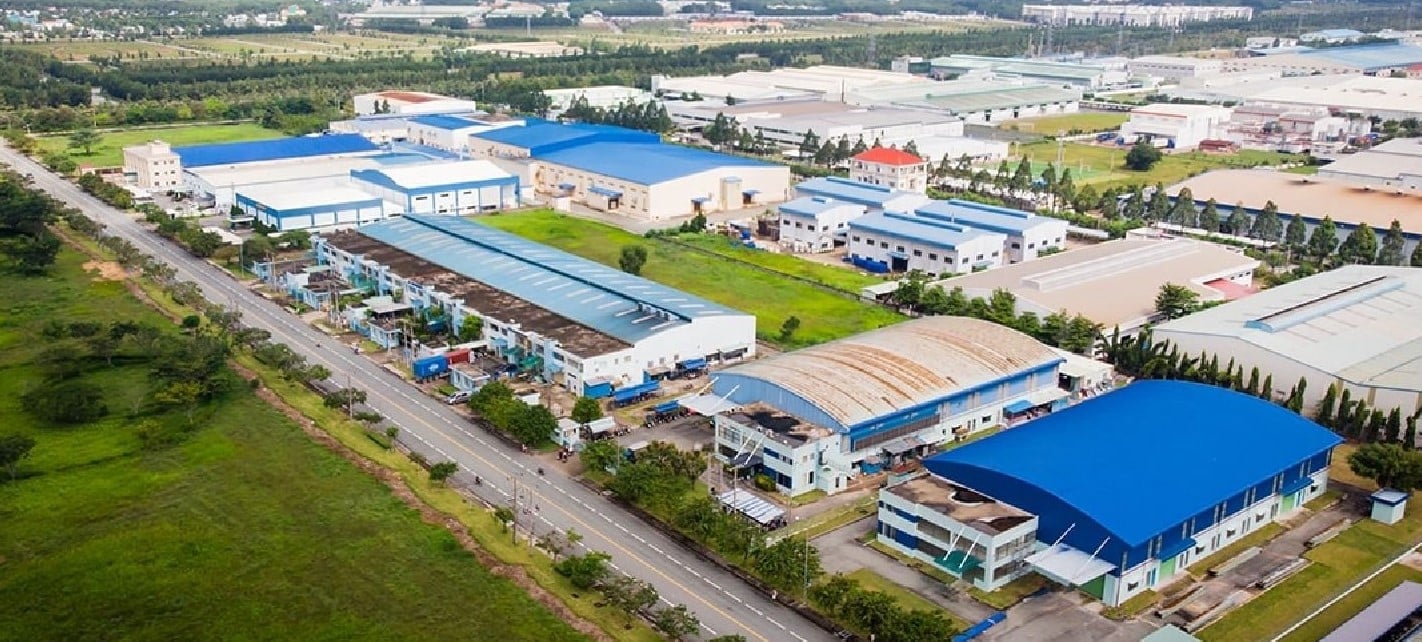 This is a concentrated, multi-sector industrial park and a clean industrial park. The water supply and drainage system is modernly designed, with an independent rainwater drainage network alongside the wastewater drainage network. The water supply network is a ring network ensuring water supply to each plot through 2 pump stations with a total flow rate of over 70,000 m3/day.
VSIP Binh Duong - Sustainable development without compromising the environment
Businesses' awareness of environmental protection has improved significantly
In addition to positive contributions, the development process of industrial zones has faced many significant challenges regarding environmental pollution. Among them, the issues of wastewater treatment, air emissions, solid waste, and hazardous waste, in particular, need to be focused on. To ensure the effectiveness of environmental protection work in the coming time, according to the Department of Environmental Management of economic zone, when planning, the environmental pollution factors must be considered immediately, and environmental protection measures should be proposed. On the other hand, attracting investment into industrial zone must prioritize clean, low-pollution industries. Especially, the investors must be responsible for fully implementing the commitments in the environmental impact assessment report of the industrial zone.
The awareness of enterprises in industrial zones, export processing zones, economic zones about environmental protection has been significantly improved. Infrastructure investors in industrial zone also emphasized this spirit from the beginning, especially the "foreign" industrial zone. Investing in environmental work can increase a lot of operating costs for enterprises, but this does not mean neglecting environmental protection.
The responsibility of enterprises in environmental protection
The 2020 Environmental Protection Law clearly stipulates the environmental protection responsibilities of the infrastructure investors of industrial parks and enterprises in industrial parks. Therefore, with the development philosophy sustainable development must go hand in hand with environmental protection and the development of society. Economic development must be in harmony with nature, focusing on human factors to build a living and working environment that is clean, safe, and healthy for everyone.
Therefore, VSIP has built an infrastructure system and environmental protection works that are always emphasized and planned in a synchronous manner. Factories are equipped with modern machinery and equipment for efficient automation to optimize results.
Centralized wastewater treatment plant in VSIP Industrial Zone
VSIP Binh Duong implements the installation of wastewater monitoring stations and iLotusLand data monitoring and management software
To effectively manage, and continuously monitor the situation, and quality of wastewater sources in a continuous, automatic manner, VSIP Binh Duong has invested in installing an automatic monitoring station system and iLotusLand data monitoring and management software to monitor and supervise sources of waste, preventing unauthorized discharge.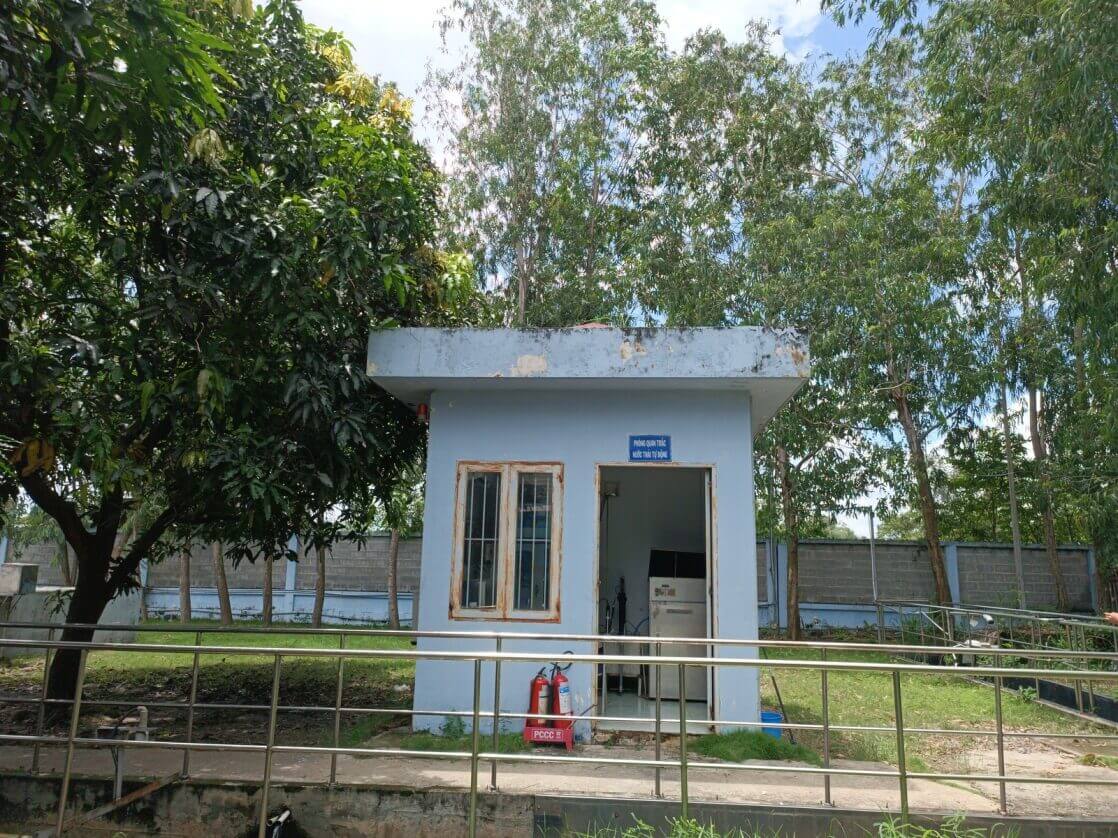 Viet An Company collaborates with iLotusLand to provide equipment and perform installation, setup, and transmission to the Department of Natural Resources and Environment, the online wastewater monitoring system, and the wastewater treatment station.
Current Status
| | |
| --- | --- |
| Type | Value |
| Software used | iLotusLand for Environment – On Clound |
| Number of monitoring stations | 03 |
Through the process of measuring and analyzing parameters such as pH, COD, temperature, TSS, Ammonium, and pressure, iLotusLand has helped the management board timely manage and monitor the quality of wastewater at the installation locations, promptly detecting and handling when there is a risk of environmental changes.
Triển khai vận hành phần mềm iLotusLand sau quá trình lắp đặt hệ thống quan trắc nước thải
After completing the system installation, iLotusLand, in collaboration with Viet An Group, conducted a sharing session to guide the usage of the monitoring software and environmental monitoring data management iLotusLand for the Management Board of VSIP I, VSIP 2, and expanded VSIP 2 in Binh Duong area.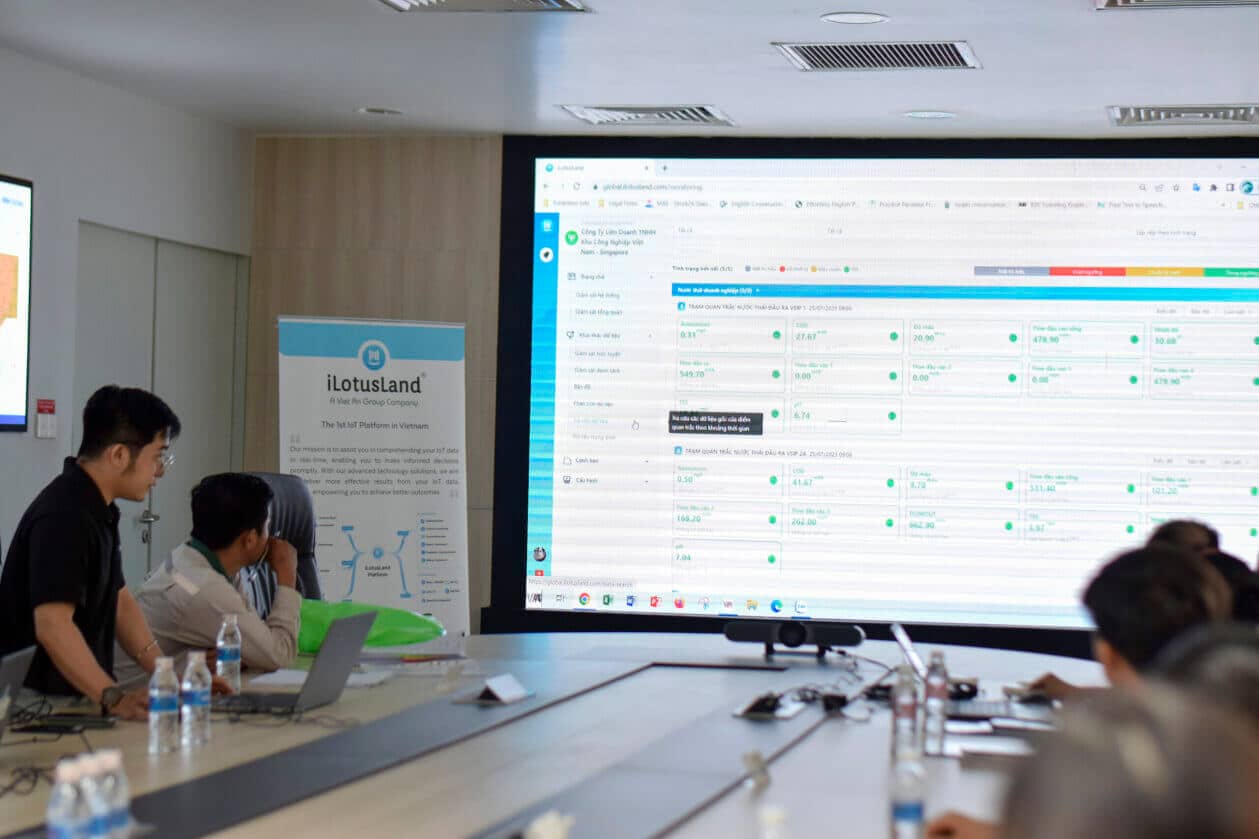 Applying IoT technology in managing a large wastewater monitoring data warehouse in IPs helps the management board save time and resources in ensuring wastewater treatment at IPs before discharging into the environment. Meeting the regulations of the Ministry of Natural Resources and Environment. The sharing session was very successful and received satisfaction from all participating customers.
iLotusLand rất hân hạnh khi được hợp tác với KCN VSIP Bình Dương qua dự án quan trắc nước thải 
After successful and beautiful projects, iLotusLand continues to successfully complete the collaboration in deploying continuous automatic wastewater monitoring system software at VSIP IPs.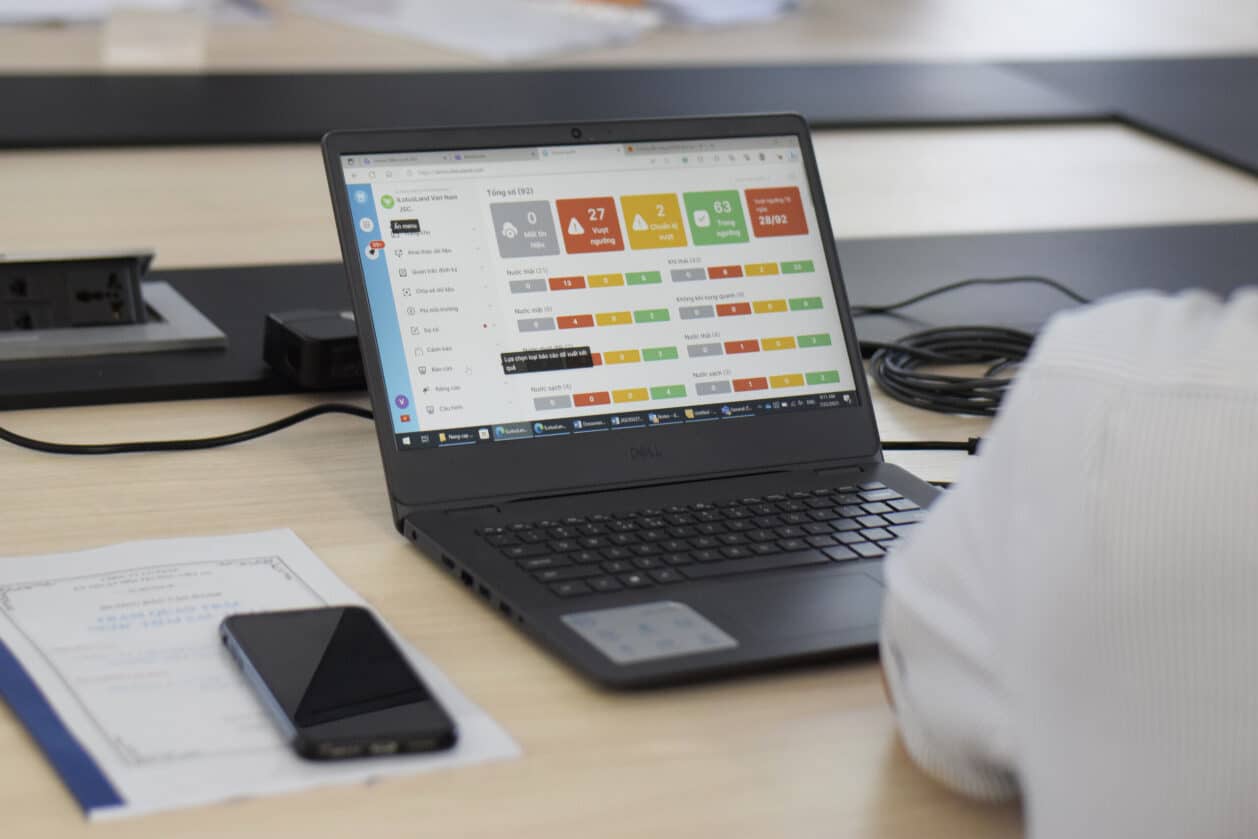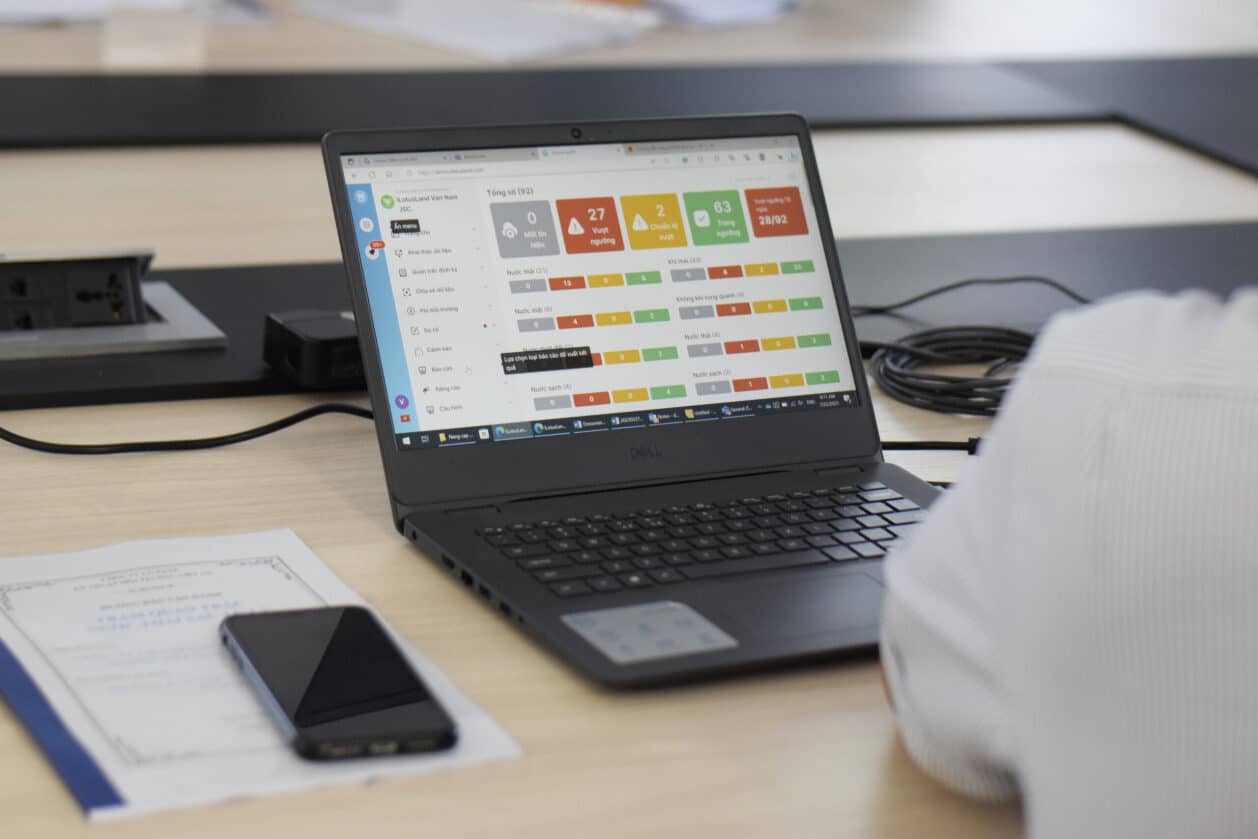 With over 9 years of experience, leading the Vietnamese market in environmental data management and monitoring through IoT technology. We are proud to have successfully provided effective real-time environmental data management solutions to many domestic and international enterprises.
Once again, iLotusLand sincerely appreciates VSIP Binh Duong for the trust and partnership!
---
More information:  
Email: info@ilotusland.com.
Hotline: +84 909 403 778
Facebook: iLotusLand – Leading in Industrial IoT Solutions
Linked in: iLotusLand – The 1st IoT Platform in Vietnam