As part of its sustainable development strategy, TKV Minerals Corporation - Joint Stock Company has chosen to use the iLotusLand for Environment software, which employs IoT technology, to manage and monitor environmental data. This is aimed at monitoring wastewater quality with the goal of protecting the environment and ensuring that environmental discharge during production complies with the Ministry of Natural Resources and Environment's regulations.
TKV Minerals Corporation - Joint Stock Company
TKV Minerals Corporation - JSC (abbreviated as VIMICO) belongs to Vietnam Coal and Mineral Industries Group (VINACOMIN). VIMICO's main business includes the production of non-ferrous metals, precious metals, cast iron, steel, coke and metal structures; Mining iron ore and metal ore, etc.
2021 is the year marking the 26-year journey of constant change and development of VIMICO, VIMICO is gradually asserting its position and reaching new heights with particularly impressive numbers, specifically:
As of the end of 9 months of 2021, equity is 2,923 billion dong, equal to 120% compared to 2015. Total assets 10,138 billion dong, equal to 164% compared to 2015. Total revenue of the whole period is 33,168 billion dong, up 1.54 times compared to the period 2010-2015. Profit before tax is 1,638 billion dong, up 1.76 times compared to the period 2010-2015.
In addition to economic growth, TKV Minerals Corporation - JSC also has many emulation movements and incentive policies to take care of the morale of employees, well perform their responsibilities to employees. with society to contribute to building the corporate image for sustainable development and of Vietnam Coal - Mineral Industry Group.
Current Status
| | |
| --- | --- |
| Type | Value |
| Software used | iLotusLand for Environment – On Premise |
| Number of monitoring stations | 40 |
Challenge
Ensuring the quality of wastewater and exhaust gas is an important factor in the implementation of the Corporation's sustainability strategy as well as the parent company's overall strategy.
One of the difficulties in pursuing the above goal is centralized monitoring, remote monitoring, receiving notifications and handling the situation immediately. In addition, the Corporation also considers solving problems arising in terms of costs and saving time in the most optimal way.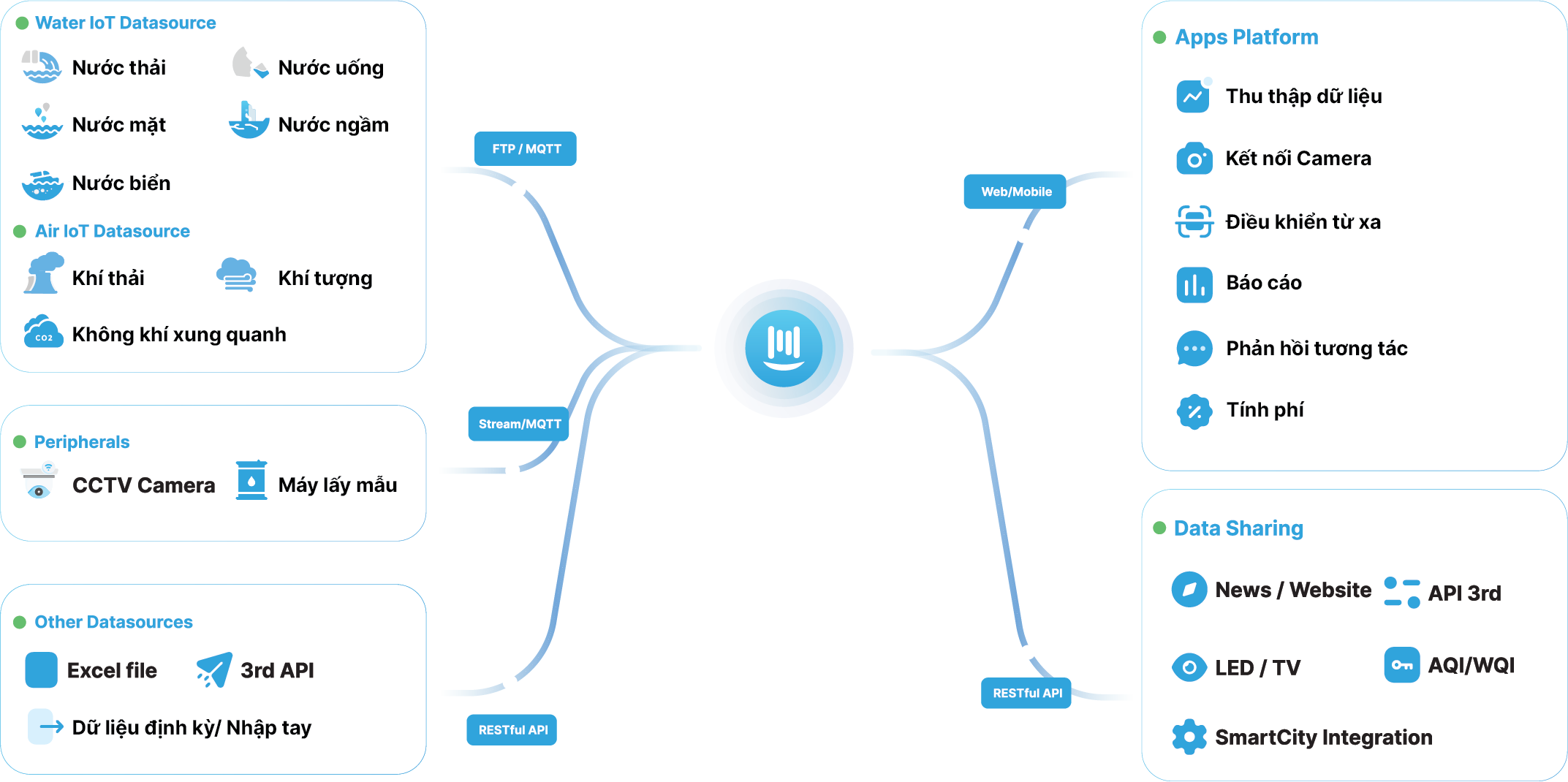 The solution for managing and monitoring environmental monitoring data
In addition, the use of environmental monitoring software iLotusLand brings a number of solutions to the corporation in monitoring wastewater, specifically:
The factories have been installing electronic boards to publicly display automatic wastewater monitoring data in a transparent manner for the residential community to monitor and monitor.

Monitor real-time data from 2 different sources: power data (transmitted from SQL Server) and environmental parameters (transmitted from Datalogger).

Environmental monitoring signals are monitored online and transmitted to the local Department of Natural Resources and Environment in accordance with regulations with FTP protocol according to the Circular.

The results of periodic wastewater monitoring are within the limits allowed by current standards with effective online monitoring and automatic alerts to support timely troubleshooting related to data and equipment.

The issue of of management and monitoring  at the affiliated plants of the Corporation is always focused and well controlled.

Integration of surveillance cameras at the monitoring stations directly on the software ensures accurate, objective, and transparent reflection of parameters and management work.
The benefits of implementing data monitoring software.
iLotusLand offers an automated real-time environmental data monitoring solution that is ready to accurately measure various parameters and metrics. Besides, it also helps businesses to proactively respond to situations and incidents that occur and ensure and strictly control the quality of output waste.
---
More information:  
Email: info@ilotusland.com.
Hotline: +84 909 403 778
Facebook: iLotusLand – Leading in Industrial IoT Solutions
Linked in: iLotusLand – The 1st IoT Platform in Vietnam